Unison Houses, Businesses, and Churches
The buildings and residences of Unison past
"Thornton Walker House"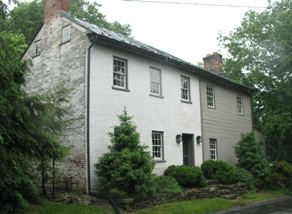 Situated across the road from Butterland is another early Unison dwelling - the Thornton Walker House.
Walker, once a postmaster of Unison, purchased the lot in 1814 from Caleb Galliher who had received it from his father two years earlier. In the deed from William to Caleb, the property is described as ˝ an acre and was designated as lot 7. Thornton Walker probably built the house shortly after he purchased it in 1814. Loudoun County tax records of 1820 show that Walker's house was appraised at $1,400, one of the most valuable properties in the village.
The house consists of four distinct units: a two-story brick section, a two-story log section, a one-story frame wing, and a rear 1˝-story log wing. The rear and front log portions are the oldest parts of the house. The brick section, laid in 5-course American bond, was built onto the west end of the front log section in the mid-nineteenth century. The house is another example of a dwelling in Unison that originally had two front entrances: one in the log sectionand one in the brick section. Since Thornton Walker was the village's postmaster, it seems quite likely that he devoted a portion of his house to a post office.
Description excerpts from the National Park Service OMB No. 1024-0018.
Photos courtesy of F. Hillman