Unison Houses, Businesses, and Churches
The buildings and residences of Unison past
"The Mildred Shackleford House"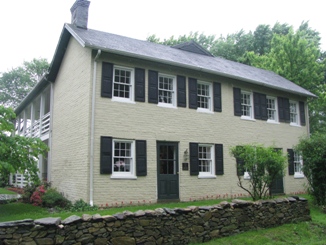 Four dwellings in the district date from the mid-nineteenth-century period. The Mildred Shackelford House, located along Unison Road next to Butterland, is a two-story, six-bay, Federal-style brick dwelling, one of only four dwellings in the district to date from the mid-nineteenth century. The house is composed of two three-bay sections each with its own central door flanked by a window. The brick is laid in 5-course American bond and an obvious seam between the sections indicates two distinct construction periods. It appears that the left section may have been built a few years earlier than the one on the right.
The house may have had a commercial use since it is one of only four buildings in the district with two front entrances.
Description excerpts from the National Park Service OMB No. 1024-0018.
Photos courtesy of F. Hillman