Unison Houses, Businesses, and Churches
The buildings and residences of Unison past
"Bonnycastle"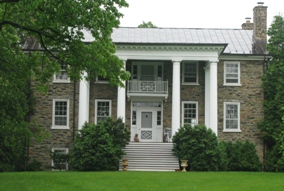 Although located on the far west end of the village and rural in nature, Bonnycastle visually delineates the westernmost boundaries of Unison and the historic district. The two-story, five-bay, random-rubble stone, Greek Revival-style dwelling features paired semi-exterior-end stone chimneys on each gable end and a raised stone basement. The house, constructed by John Keene, was originally plastered on the exterior and scored to resemble finished stone blocks. The house also originally had a very shallow-pitched gable roof, typical of the Greek Revival style, which was raised in the 1990s to a more standard pitch. The front of the house is dominated by a two-story, full-height, three-bay portico with giant Tuscan columns, broad pilasters, and a modillioned cornice. A small balustrated balcony supported by consoles projects from the second floor under the portico.
The house appears on the 1853 Yardley Taylor Map and is identified as belonging to "J. Keen," perhaps indicating it was under construction at that time because the Loudoun County Land Tax records indicate the house was completed in 1855, as it was first assessed the following year for a value of $4,000. John Keen was the son of George Keen, an extensive landowner who lived in what is now knows as "Far Away Farm", 1 mile south of Unison on what was then called "the Unison to Bloomfield" road, now known as Bloomfield Rd. George himself owned land stretching the entire length of the road from Bloomfield to Unison.
In the middle 20th century the property was purchased by the well known equestrian artist, Jean Bowman, who gained international recognition for her oil painting portraitures of famous racehorses. Her paintings hang in many prestigious collections including that of the HRM Queen Elizabeth of Great Britain.
The property also features a nice collection of late-nineteenth-century and early-twentieth-century farm outbuildings including a board-and-batten bank barn on a stone foundation
Description excerpts from the National Park Service OMB No. 1024-0018.
Photos courtesy of F. Hillman