Unison Genealogy
The families and names of Unison past
The Unison School - 1910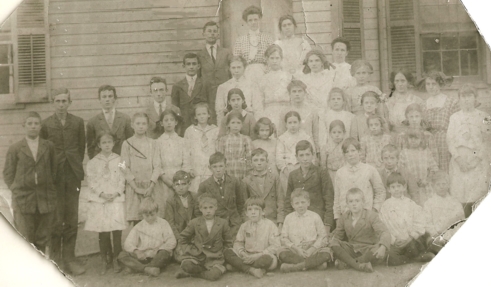 Martinís 1835 New and Comprehensive Gazetteer of Virginia indicated that at that time Unison had one "common" (ie: open to all students) school, although its exact location is unknown. After the adoption of the Underwood Constitution of 1870 which mandated public education in Virginia, Unison built its first public school. According to deeds, it was originally located on the southwest corner of the Methodist Episcopal Church South lot. The current building in that general location is the old Unison School (Photo 20). Architecturally, the front portion appears to date to the 1890 period, although the rear section could be the 1870 portion. The building has undergone quite a bit of modern renovation and features 1/1-sash windows, a formed and parged concrete foundation, overhanging eaves, a plain frieze board, and an enclosed three-bay hip-roofed front porch. The school closed around 1915 and was then converted into a dwelling.
Excerpt from the National Park Service OMB No. 1024-0018
The teacher in the back (left) is Catherine ("Miss Katie") Gill and (right between two students) Miss Ida Dowson, principal. The names of the students are as follows:
First Row - left to right: Robert Hodge, Roger Manuel, Hasel Lacey, Madison Nichols, Karlton Monroe, ___ Mock, and ___ Mock.
Second Row: Thomas Wharton, Walter Lacey, Adrian Saffell, Dainy Wiley, Joseph Lacey, Roy Carpenter, and Lucille Carpenter.
Third Row: Louise Carter, Lottie Reid, ___ Mock, Frances Carter, Marian Furr, Minnie Hurst, Joanna Wiley, Virginia Carpenter, and Mary Wharton.
Fourth Row: ___ Mock, Virginia Embrey, Maidie Embrey, and Susan Nichols.
Fifth Row:(Girls) - Pauline Piggott, Della Wharton, Bessie Tavener, Bertha Wiley, Rebecca Manuel, Florence Keen, Catherine Piggott, and Mattie Monroe (at top next to teacher). (Boys) - George Hoge, Carlton Wiley, Edward Dishmarr, Charles Monroe, Ludwell Beavers, Douglas Miley.
--More photos to be uploaded soon as this project continues--