Important Info - updated February 2021
Due to the ongoing COVID-19 global pandemic, and the CDC mandates in place, all in-person events and meetings normally scheduled by the Unison Preservation Society will not be held until further notice.
We will post notifications and updates, including info regarding the 2021 Heritage Day, on this website as necessary.
Thank you.
Tara Connell
president, Unison Preservation Society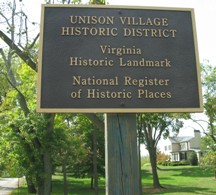 The Unison Preservation Society was incorporated in 2001 to help protect and preserve the historic village and surrounding countryside of Unison. The village was founded in the early 1730's as one of the first settlements in Loudoun County, Virginia.

We invite you to browse our website for information on
Unison's history in brief
The village itself which includes the houses, businesses, legal documents, cemeteries, schools, churches, etc)
Unison in the Civil War
Current Unison events and Heritage Day
National Battlefield study in the Unison area
How you can help promote the
preservation and celebration of our culturally rich heritage.
DONATING TO OUR SOCIETY
The Unison Preservation Society is a 501(c)(3) not-for-profit organization.
All donations are tax deductible.
---
With the unprecedented events surrounding the Covid-19 pandemic, we have been sadly forced to cancel all our meetings, events, and programs such as our annual Heritage Day which is our main fundraising event of the year. We would like to reach out to our wonderful supporters and contributors of the past to consider giving once again to our not-for-profit organization towards supporting our goals and objectives. Donations to UPS will be used for preservation projects, roadside tree planting and other projects in and around the historic Unison Village. UPS has no management costs and 100 percent of all donations go to these projects.

Your ongoing support means so much to our organization, and we are truly grateful to all - volunteers to patrons - who reach out to help.

We are happy to offer PayPal to all our contributors who would like to donate online. Please use the "Donate" link below for your donation through PayPal. Once your donation is received, we will contact you with a contribution letter for your tax records.
---
If you would like to donate by mail
- Click Here- to download a contribution form.

Please make your check out to "Unison Preservation Society", or to the "Unison Battlefield", and sent to

The Unison Preservation Society
Box 606
Middleburg, VA, 20118.

Thank you one and all!
---
---